Next day delivery as standard
Our standard Next Day delivery service means your print will be delivered in plain packaging the day after it has finished being printed, any time between 8am-6pm. A before noon delivery service is also available. The price of delivery depends on where it is being delivered to and importantly the weight of your order, Standard Next Day Delivery starts at just £4.95.
You'll see an estimated delivery cost on all product pages for the size and quantity selected in the drop down menu.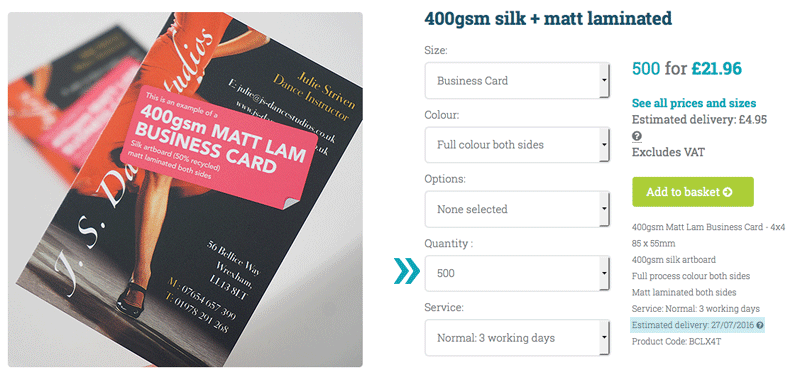 Consolidated Carriage Costs
If you have more than one item being delivered to the same address make sure to add all your items to your basket before you check out. Our system will consolidate your order and work out one price for the total weight of all your items, saving you money on the price of individual carriage jobs.
We may despatch each item as soon as it's ready. Don't worry though, we'll only charge you for delivery once.
How do I work out my Carriage Costs?
Add all your items to your basket, skip past the 'upload your file page', let us know where you're delivering your goods to (this address will be saved for future use) and the system will work out the exact carriage cost for you.
Can you deliver outside of the UK?
Yes, we can deliver to places outside of the UK, please contact us for a quote.
Can you deliver to PO Box addresses?
Unfortunately we are unable to deliver to PO Box addresses, TNT require a signature for your delivery.
Can I change my delivery address after my order has been placed?
Yes, sign in to your Dashboard then browse to My Orders. Select the Job Number you'd like to amend, then select Change delivery address.
Track your delivery
Our main carriage partner is TNT (DHL for Northern Ireland). For all deliveries processed via TNT your online account is directly linked to TNT's Track & Trace facility.
Go to My Orders > Completed, click on the job number of the item you want to track. Then click the 'See despatch details' button where you'll find a link to TNT Track & Trace.