Have you added Ink on Fabric
to your offering?
Fabric displays offer an inventive and eye-catching solution for all types of indoor and outdoor events, promotions, trade shows and exhibitions.
We've invested in the latest direct-to-fabric printing technology - the first of it's kind in the UK - and our production hub employs talented machinists ready to turn your ideas into a fabric reality.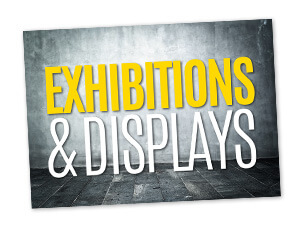 Fabric reseller tools
 For more help and ideas on how to promote the range visit the fabric selling tools page.
Fabric stand lending scheme
Borrow one of our unbranded London Display Stands to put up in your studio to help your clients visualise their own fabric display.
We'll also send you 25 unbranded brochures to help you promote the range.