Christmas might not be in the forefront of your mind yet, but it soon will be for your customers. Make sure you're ready when they are.
Independent research from One Poll commissioned by Royal Mail found an overwhelming 72% of people would prefer to receive a traditional card to any electronic festive greeting sent through social media channels.
Christmas sales pick up from September and peak in November. You should start your main marketing push from September, get ready now to catch those early birds.

Sending Christmas cards is a cost effective way for your customers to say thank you for the business and to reinforce client relationships. Scan and print signatures to save having to write them in each card.

A great low cost gift for B2C or B2B customers to give out to all their clients over the festive
period. We've a wide selction to suit any budget. Our most popular calendars are Wallplanners.

Framed canvasses are a popular Christmas gift. We'll print your design - a photo or illustration - then tension it over a wooden frame and attach it to the rear for a neat professional image.
Up to 54% off Wallplanners – 250 from £92.30 (£175.00)

We've permanently reduced Silk Wallplanners and Gloss Laminated Wallplanners - they make great Christmas giveaway gifts. Download a 2017 calendar template to start your design.

Price point refers to 170gsm Silk Wallplanners - A2 - 420 x 594mm / full process colour one side  / service: Fast. 
 VAT and delivery not included. Crossed out price refers to 2015 price.
---
Christmas Reseller Tools
Christmas product photos
Download product images to use on your website,
eshots or printed material.
Low resolution images for web
High resolution images for print
Start with customers that have ordered Christmas products before
These are probably the easiest group to sell to. You know them, they know you and they buy Christmas products – perfect.
Targetting hospitality
Restaurants, bars, clubs and hotels begin to think about their Christmas marketing before most other businesses. Target the hospitality industry early, while they're still at the planning stage (and they don't go to your competitors). Typical products that they might order are menus, tent cards, posters and flyers. They may also order Christmas cards, calendars and promotional items like wine.
Targetting fundraisers
There are loads of groups that are interested in raising funds; churches, schools, universities, charities, sport teams, community groups etc. Calendars and Christmas Cards are always popular with fund raisers. Start with your low hanging fruit – get in touch with your kid's school and the school your designer went to – think of a connection and it will be easier to get in the door.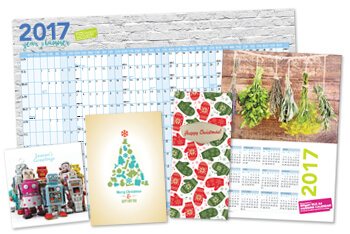 Christmas cards & calendar samples
Request a free Christmas Cards & Calendars Sample Pack today and kick start your Christmas campaign. All of the samples are unbranded and are great for sending out to your customers so that they can touch and feel the products.