Upfront, flexible turnaround to suit you & your customer
We know what it's like. Your biggest client needs new business cards for an important meeting. Someone forgot to order flyers for the exhibition tomorrow. You've got a last-minute marketing opportunity you can't miss. Don't panic. Our upfront turnaround lets you know exactly when your customer will receive their print.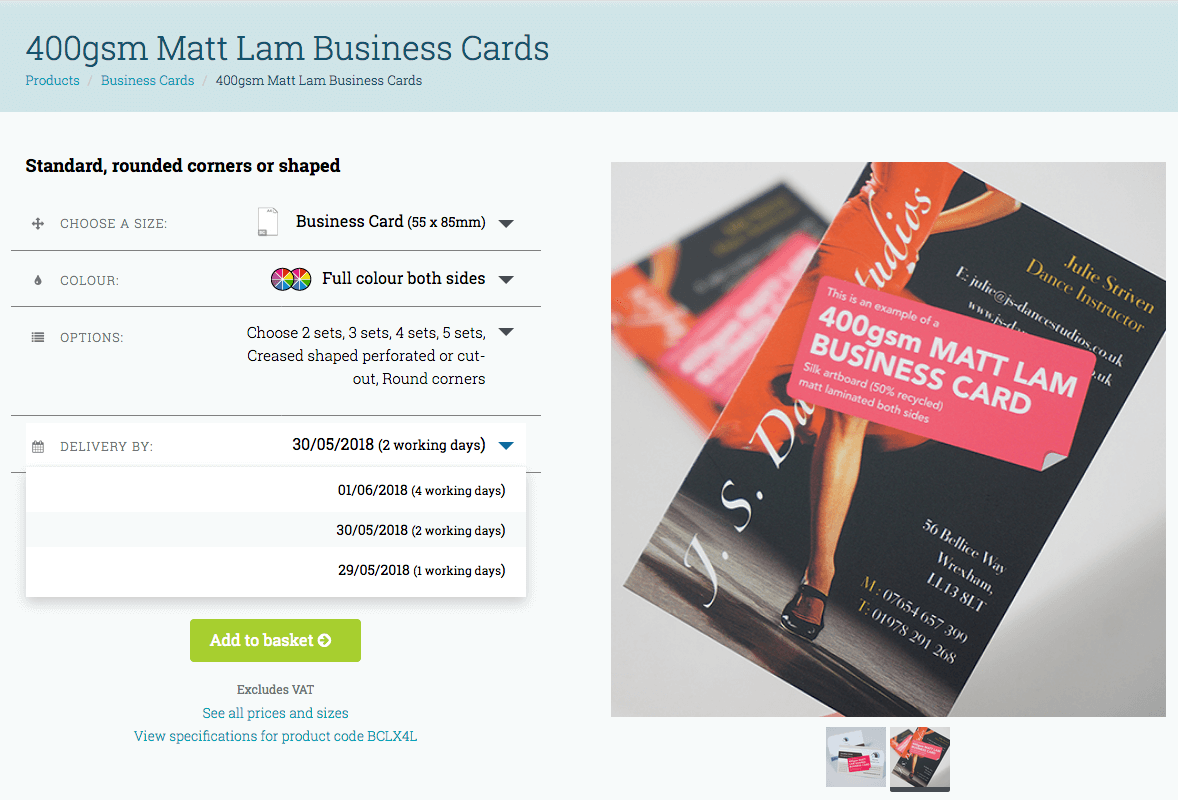 Most of our products on this website have a fixed turnaround. For instance, an item with a 3 day turnaround means approve Monday, delivered Thursday. 5 working days: approve Monday, delivered the following Monday.
Place your order and supply your design files by 4pm on any working day, Monday to Friday, and your file will be processed via our automated preflight software that day. If there are no issues, it will be sent to print, no proof provided. If there are issues or concerns, we will inform you via email and provide an on screen proof. To ensure your job is sent to print that day, we must receive your final online approval by 9pm.
Special care products
It's important to us that your file prints correctly first time. If you've chosen a product has a special finish (i.e. spot UV, foil or die-cut), fold type or is fabric we'll always send you the results of the FileCheck and an on screen visual for you to approve.
Flexible Turnarounds
Shorter turnaround times when you need it.
Sometimes your client gives you an absolute, unmissable, 'simply has to be there' type of deadline... with no compromise on the specification or quality.
Marqetspace allows you to switch our Standard 'Fast' service level to Faster, Xpress or even Next Day. With our flexible turnaround options, you can choose your turnaround and choose your price. Our low prices mean we have to work ultra efficiently, so speeding up your order means we rack up extra costs. To help contribute to these costs, we add a small premium to the normal trade print price – but it provides you with a way out of a tight situation and peace of mind. For instance, a print item with normal turnaround of 10 working days is also available in 9, 8, 7, 6 or 5 working days with our Xpress Service – the less urgent your order is, the lower your price is.
Or go for the lowest possible price.
Conversely, sometimes time is not of the essence. You've helped the client plan their campaign well in advance. With Marqetspace that means additional savings. Switch our Normal service level to Saver and find our lowest possible price. Same specification, same quality, just a lower price.
Next day service - place your order by 12 midday
Left it to the last minute? Or someone just sprung something on you? No problem! Place your order by 10am and we'll despatch your order the same working day on a wide range of items. Just choose the next day service level when creating your order and we guarantee we'll despatch your order the very same day. To ensure your job is sent to print that day, we must receive your final online approval by 12 midday.
Browse all products available to order on next day service >>