We want your files to print perfectly.
We want your graphic files to print without fuss and look exactly like you meant them to. Even if you're a seasoned professional and are used to supplying files for print, please read these guidelines anyway – our process is likely to be different to what you're used to. If you're designing something complicated, please contact us before you start or look at our 'How To' guides.
What happens when we receive your file?
Upon receipt of your PDF, we'll perform an "automated FileCheck" of your file with our preflight software, to ensure that it meets our production requirements. Our software is industry-leading, and will correct many common issues ready for print.
Post FileCheck we will:
If no errors are found in your PDF then we will proceed to print without sending you a proof.
(Unless one was requested online at the time of your order, see below image for further details).
If errors have been found and corrected that change the visual look of your graphic file then we'll send you the results of your FileCheck with a list of found issues and what has been corrected. To ensure your job is sent to print on the day of your order, we must receive your final online approval by 9pm. 
If your PDF fails our preflight then we will request a new file. If you can't correct the issue, you can select 'fix my file' and one of the support team will be able to assist.
Sometimes we can't correct a file, such as a low-resolution image, and in this case, we'll contact you to confirm how to proceed. If we have to make manual corrections to your PDF, a small fee may be incurred.
Special Care products
These products usually have
Die-cut
,
Spot UV
,
Foil
or
Embossed
elements in them and require extra attention. Special Care products also include
Booklets
,
Perforated
Leaflets
and all
Fabric products
, which are more complex or carry a higher value. These products can take up to 4 hours to check and they are reviewed and proofed by a member of our Preflight Team. Basic products such as flat and folded leaflets and business cards are proofed directly from our automated preflight software shortly after your order has been placed.
If your order is urgent please refer to our
file supply guide
to ensure your file is supplied in a "print-ready" format to avoid delays.
File fixing service
Some artwork issues may not be able to be fixed by our preflight software and may require manually correcting. We're able to advise and provide guidelines to help you make amendments to the artwork yourself. If you're stuck or are short on time it may be possible for our file checking experts to fix the file for you. Each file is different and we'll let you know what needs doing and the cost before proceeding. Our amendment charges start from £10.

 
Resupplying files
Resupplying your files and requests to fix files received after 4pm will add 1 working day to your order. To avoid delays please refer to our
File Supply Guide
to ensure your files are supplied in a
"Print-ready" format
.
File Check preferences
From your Basket you can elect to receive a proof for each job, to not receive a proof or to receive a proof only if we spot issues.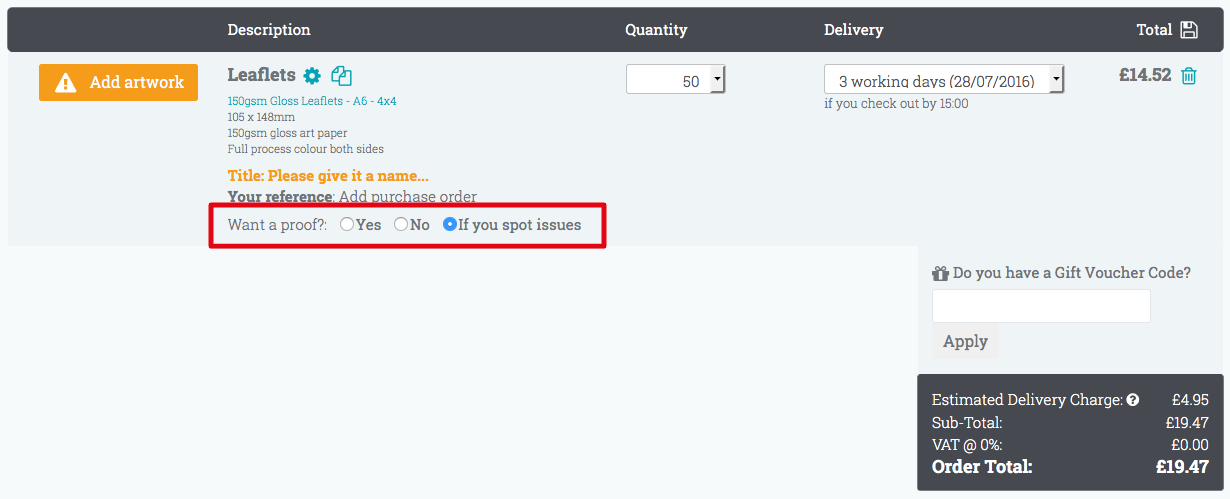 The Results of your FileCheck
When you receive the results of your FileCheck please review all Warnings and Fixes before approving your job for print. If you have any questions regarding your online proof please give us a call.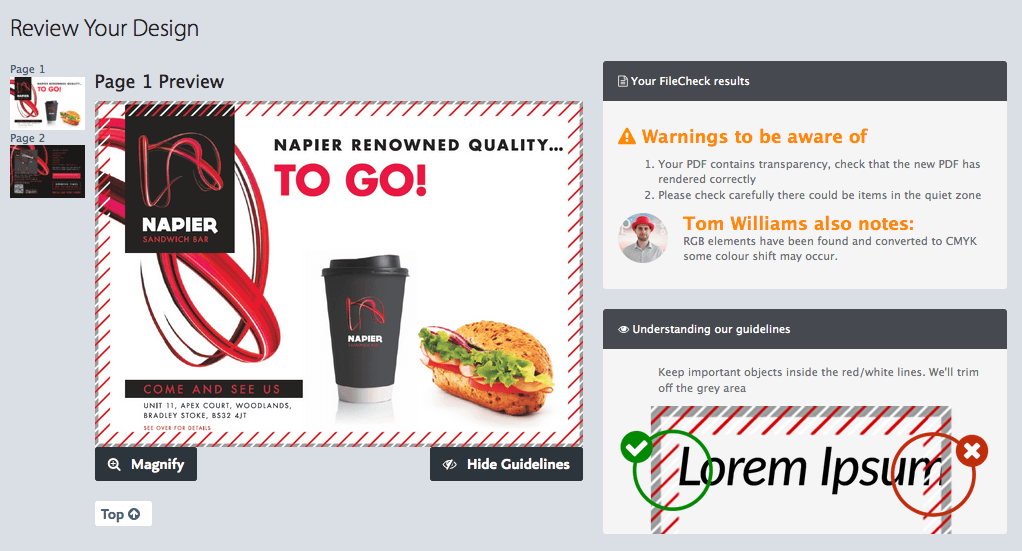 I don't have a PDF, can you work from my native file?
Yes, absolutely. We prefer PDF files, but if you don't have one then we'll be able to work with your native files. Please contact us to discuss your project further.
Please make sure you have read our the minimum essential guidelines before sending your files to us.