Folder Templates
Download the appropriate InDesign template to start your design from.
Standard Presentation Folders
The standard Presentation Folders use a standard guide for cutting. We have templates available that you can use to construct your artwork within that match these fixed guides.
If you're using one of our standard folder styles below, then do not modify the cutting lines provided on the template. The artwork also contains an identification panel, e.g. 'Style P2' - this must not be removed or altered in any way.
The styles available are:
450gsm Soft-touch Laminate 2-Panel Interlocking
Soft-touch Folders are available in 3 styles only. They close by interlocking and are supplied flat. Custom style/template is not available on this product.

280gsm/400gsm Standard 2-Panel Interlocking (Presentation)
Interlocking Presentation Folders are available in 12 styles. They close by interlocking (excluding style P1) and are supplied flat.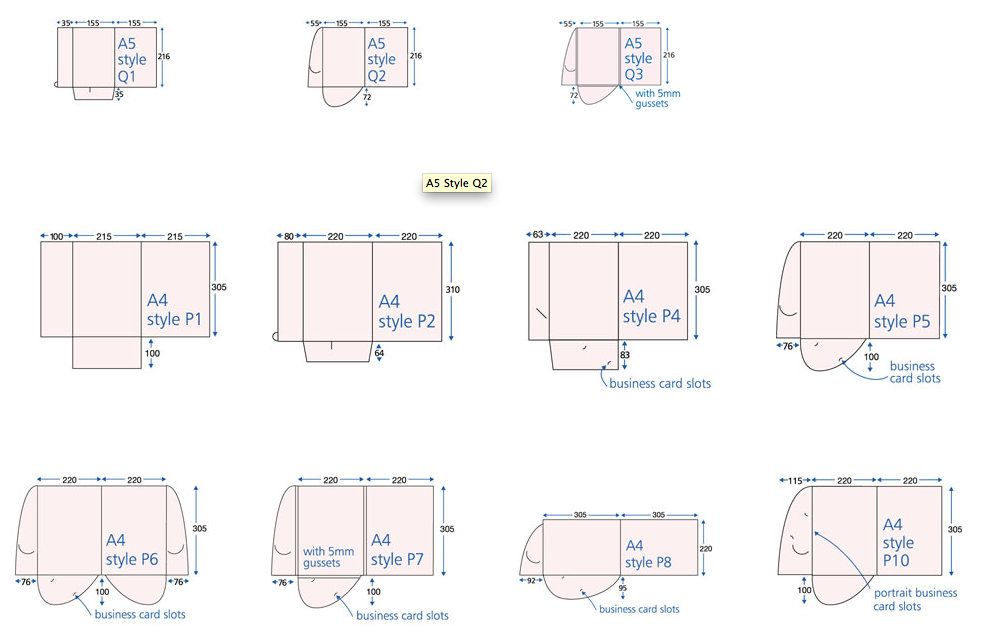 400gsm Standard Peel and Stick
Peel & Stick Folders are available in 8 styles. They are supplied with Peel & Stick Tape attached and are supplied flat for self assembly.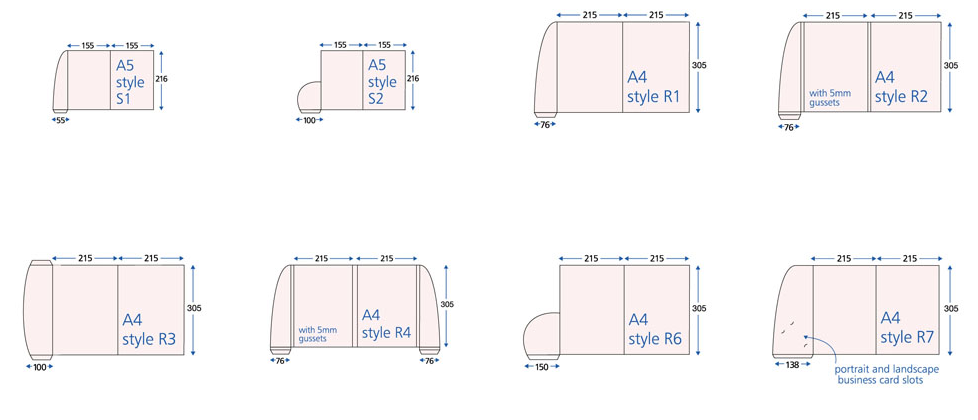 400gsm Standard 3-Panel (Corporate)
3 Panel Folders are available in 3 styles. Styles K1 and K3 have a flap to hold their contents and are supplied flat.

400gsm Booklet Folders
Booklet Folders are available in 3 styles. They hold 4, 8, 12 or 16 text pages (which are stitched in) and include a glued flap/pocket. The are supplied assembled.
250gsm Saver Folders
400gsm Fat Folders (High Capacity)
400gsm Media Folders
Custom Folders
Please see below if you require a Custom Style for any of the above Folders (Please note that Custom Style is not available on Soft-touch and Saver Folders).
Please note that custom formes will not be archived unless requested - ask for details.
Artwork orientation
Artwork must be supplied'upright reading,' i.e. not rotated. The reverse layout must be a mirror image (left to right) of the front layout, as shown below (The blue Quiet Zones show areas hidden by assembly). The cutter guide and template markings are off set on the pages, do not re-centre the artwork.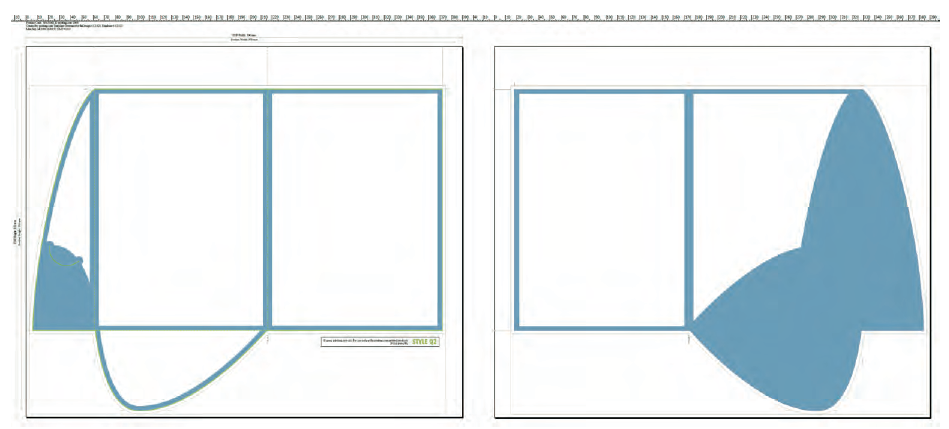 Use of colour
We'd recommend that you bleed the background of the artwork to the full extent of the template box - this enables better colour consistency across all panels of the folder.
Try to avoid large areas of the same colour or gradients – that's where colour issues such as banding or ghosting becomes most noticeable. Try to break up large areas of colour with alternate elements or add a background image.
Filling a background
Correct: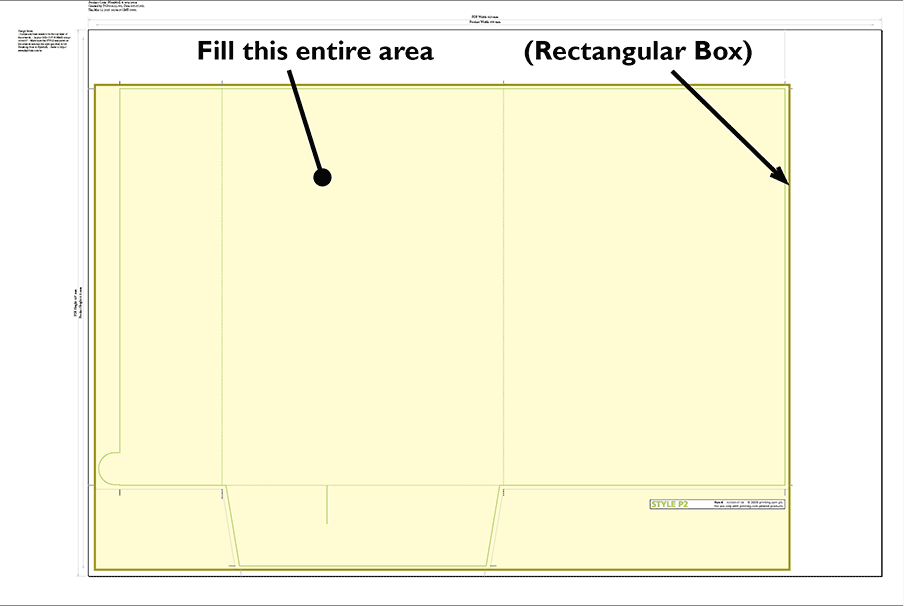 Incorrect:
Optional Peel and Stick
Peel and Stick folders must have the 'tape strip position indicators' present at every place requiring a tape strip. Our standard templates already include this.
Custom Folders
We can produce custom folder cutter guides. You'll need to use one of these if you need to adjust any of our standard templates in any way.
Simply supply your Cutter Guide on page 3 of your PDF
It is usually quicker and safer to base your custom design on an Existing Folder Template.
Cuts: 2pt stroke (continouous line)
Creases: 2pt stroke (2pt dash, 2pt gap)
Choose a Product
Use the smallest product that is big enough to contain your artwork, including bleed.
Product
Maximum finished size
Width
Height
2-Panel Folders: Holds A5

PFA5?X?

378 mm
320 mm
High Capacity Folder

FFQ4?CU?

445 mm
354 mm
2-Panel Folders: Holds A4

PFA4?X?

608 mm
415 mm
3-Panel Folders: Holds A4

CFA4?X?

658 mm
438 mm
P8-sized Folder

PFA4?P8?

702 mm
320 mm
Presidential Folder

PRA4?

870 mm
378 mm
Test your artwork in the template in InDesign, before committing a quote to your customer.
Limitations of the forme
Parallel creases, i.e. on a folder with extra capacity or a gusset, must be at least 5 mm from each other.
For gussets larger than 5 mm, use dimensions rounded to the nearest 1 mm, so 6 mm, 7 mm, 8 mm and so on.
Ensure that creases are no less than 5mm away from a parallel die-cut line.
Complexity and anchor points
| Type | Maximum Forme Anchor Points |
| --- | --- |
| A5 Folders (2-Panel) | 23 |
| A4 Folders (2-Panel) | 30 |
| Media Folders | 30 |
| Corporate Folders (3-Panel) | 30 |
| Presidential Folders | 30 |
More complicated than that?
If your design exceeds these limits, email a PDF of the forme only for an assessment of additional costs and turnaround (we will endeavour to inform you of any delays in replying), which we will add on your approval.