Subscribe to our email list to be the first to know about special offers
£5 OFF BIO LAMINATED PRODUCTS
It's difficult to look at social media or read the news at the moment without hearing something about the single-use plastic epidemic #theAttenborougheffect.
From today, we've switched all our matt and gloss laminated print to a new biodegradable film. This "bio" film looks like regular lamination and feels lovely. When the print reaches the end of its useful life, it composts. Within two years it's gone. Without leaving contaminants in the soil.
In August, we'd like you to try any of our Matt Lam Bio, Gloss Bio or Spot UV Bio range. That's Business Cards, Flyers, Showcards, Menus, Invitations, Folders and more. It's easier to be green, with £5 off introductory pricing.
FEATURED BIO LAM PRODUCTS

400gsm Spot UV Business Cards
Matt laminated both sides with gloss varnished highlights applied to the front for shine and detail. Deliciously decadent and impressive.

400gsm Matt Laminated Flyers
400gsm thick artboard, matt laminated both sides for a sophisticated, elegant finish which looks and feels gorgeous.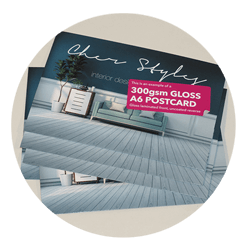 300gsm Gloss Lam Postcards
These thick flyers are laminated on one side with our shiniest, glossiest and most biodegradable coating ever - the reverse is uncoated.
The small print: Prices include delivery to one UK mainland address. They exclude VAT.
Click through to see full product specifications. Orders must be placed by 4pm, Friday 31/08/18 to get the offer prices listed.